Grand Central Terminal:  
Tour This Jewel For Free!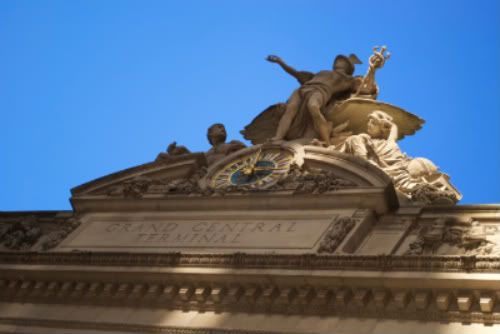 Grand Central Terminal (also referred to as Grand Central Station) is one of New York City's major transportation hubs. It houses the Metro North railroad, several key subway lines, a
taxi station, and loads of commuters. You'll also find fine shops, restaurants, and a host of events including wonderful holiday celebrations.
But, it is not just a "Train Station." It a true tourist attraction in itself, a jewel, as it boasts a rich history and is architecturally significant. First opened in 1913, it is built in the French Beaux-arts (French for fine art) style. It underwent a massive 12-year restoration in 1998 which revealved the original luster of the Main Concourse's elaborately decorated astronomical ceiling. It's an amazing sight! There are two peculiarities to the astronomical ceiling. Can you figure out what they are?
Grand Central Terminal has been used for many movies including Hitchcock's North by Northwest, Carlito's Way, I Am Legend, Men In Black, Revolutionary Road,The Taking of Pelham 123, and many, many more!
DON'T FORGET
Don't forget to check out all the other fantastic
sightseeing attractions
you'll want to see! Make sure to visit at least one great
museum,
take a
walking tour,
check out
Ground Zero,
and the
The Intrepid,
to name a few!
---
TOURS OF GRAND CENTRAL TERMINAL:
THE BEST DEAL IN TOWN
Many tourists AND residents do not know about the best deal in town. Treat yourself to one of the many FREE tours of Grand Central Station. I promise that you will fully enjoy it and come away quite inspired and more educated about New York City in general! First step?
Pick up your FREE terminal map and directory at the "I LOVE NEW YORK" information window in the Main Concourse.
Choose from the following: